Experts expect small business health insurance benefits prices to jump by double digits this year – employers can fight back with small group claims data.
You've heard it in the news: small business benefits prices are expected to jump by double digits. This puts significant strain on employers still reeling from COVID 19, supply chain disruptions, and increased labor costs due to the great resignation and inflation.
"Health insurance brokers, consultants, and benefits advisers told STAT that health care premiums for a lot of smaller employers likely will rise by at least 10% to 15% for 2023. The pandemic is contributing to that, creating headaches for insurance actuaries who are trying to estimate how much care people will get while a deadly virus keeps circulating."
According to news from Keiser Family Foundation, "Health insurers in individual marketplaces across 13 states and Washington D.C. will raise rates an average of 10% next year, according to a review of rate filings by KFF."
Insurers are looking to recoup costs from premiums remaining flat for several years during the pandemic, combined with higher utilization and inflation.
But there are some ways small employers can combat these high costs with our newest software product: Beacon.
What's driving the huge increase in small business benefits costs for 2023?
There are two main factors that are affecting the price of healthcare benefits for 2023: rampant inflation, and changes to healthcare benefits utilization. Passed this week, the Inflation Reduction Act extended the Affordable Care Act subsidies, which filled the gap for some employees who do not qualify for Medicaid and lowers ACA health care premiums for millions of Americans.
#1: The pressure of inflation
The pressure of inflation has yet to be felt directly in healthcare, with the inflation rate in the sector staying below the national average across sectors. This is because "in healthcare services, prices, reimbursement rates, labor contracts (which are typically indexed to consumer price inflation), and several other input factors are set two to three years in advance," according to McKinsey and Company. ​​
"First, providers will demand higher reimbursement rates, and second, payers will pass along higher costs to employers and consumers, who have already been seeing an increase in costs of over 6 percent every year from 1999 to 2021. This lag could result in reduced healthcare benefits and higher out-of-pocket costs for consumers." – McKinsey and Company
#2: Changes to how people use benefits
After the height of the pandemic, benefit utilization has shifted, which is just another way to say that people are using their benefits differently. They've increased spending on mental health and deferred a lot of preventative medical spending. Many individuals did not receive preventive care or routine care during the pandemic and it's hard to say how long the affects will linger (some are forecasting an uptick in medical expenses in the second half of 2022 and 2023). As for mental health spending, it remains a key driver of increased costs: "mental healthcare utilization trends are likely to remain relevant for the foreseeable future" according to Health Payer Intelligence's 2023 reporting.
Who will be affected by rising health insurance costs?
It's likely that most employers will be passing on some increased plan costs to their employees (members) in the form of premium hikes. These will have a significant effect on members already grappling with rising inflation in other areas. Given that most Americans are unable to cover a $1,000 emergency medical expense, the added premium costs will be burdensome to most.
According to Healthpayer Intelligence, "Employers must be ready to engage with members as they navigate higher costs. Primarily, employers' role is to support members as they seek to keep costs low in healthy ways."
How can employers help manage these benefits costs for 2023?
The biggest way that employers can help curb costs is to develop a benefits plan that meets the needs of their members. This includes planning better, changing the benefits offered, and implementing programs throughout the year aimed at improving the health of your member group.
#1: Plan better with more data
Smart employers have begun tapping their third party administrators and brokers for more data about costs and plan use.
Data will become increasingly more important in driving plan creation for employers of all sizes, in fact, claims data technology is becoming the employer expectation. "Employers will look to their third-party administrators to provide accurate current claim cost information, as well as credible forecasts for expected health care cost trend," Winkler said.
Historically, a broker will use demographic information from an employee census to develop inferences about the plan that the group would need. They typically supplement this with an IHQ, or individual health questionnaire, but still, there are significant problems with this approach – namely, it's not that accurate! But that's what the industry had adopted as the next best option.
Recognizing the need for more accurate data to help with plan design, we launched Beacon for Brokers, a software platform that connects with a member's benefits and evaluates how the plan is used. Switching to a self-funded plan for example, can save a company hundreds of thousands of dollars. Employers can pass these savings on to the members. But the tricky part is that this switch necessitates really detailed data about participants are using the plan and information on high-cost claims. Beacon solves that problem so you can confidently switch to self-funded or level-funded, or have more insight into how your fully insured plan is being used.
Using Beacon, your broker will have detailed information about how the group uses their benefits. You will have access to summary reports, benefit utilization reports, and loss ratio reports help you select the best plan.
To learn more about Beacon and how you can use it for plan creation (as an employer or broker), schedule your demo here.
#2: Use the data to change what benefits you offer
Another way to help members save money is to change what benefits you offer. This can entail a change to the primary medical plan (ex. Switching to PPO for example), adding supplemental benefits like critical illness coverage or short-term disability coverage. tems like critical illness coverage, for example, are around $366 a year, but can save employees tens of thousands of dollars and reduce the burden on the primary medical benefits.
#3: Use the data to help keep employees healthy
With Beacon, you'll have summary information about how the group uses their benefits, and we're building recommendations to improve and manage the health of your group. Improve the health of your group with suggestions like annual flu shot, bloodwork, or physical reminders. In turn, this manages costs. Four out of five of the leading causes of death are manageable with regular access to healthcare that would prevent or intervene early and with better outcomes. Plus, a healthy group means a lowered likelihood of worker's compensation and disability, decreases in absenteeism, and higher morale when your employees are at work.
Final thoughts
It may be scary to hear that costs for benefits are going to rise in 2023, but there are ways to help combat these costs. It doesn't need to be overwhelming. By partnering with a broker and TPA that uses TPA Stream products like Beacon and Claims Harvesting, smart employers will have the information they need to make the best decisions during planning and beyond.
What's next
Access to claims data for clients of all sizes is within your reach with Beacon by TPA Stream. We'd love to show you how. Request a demo here.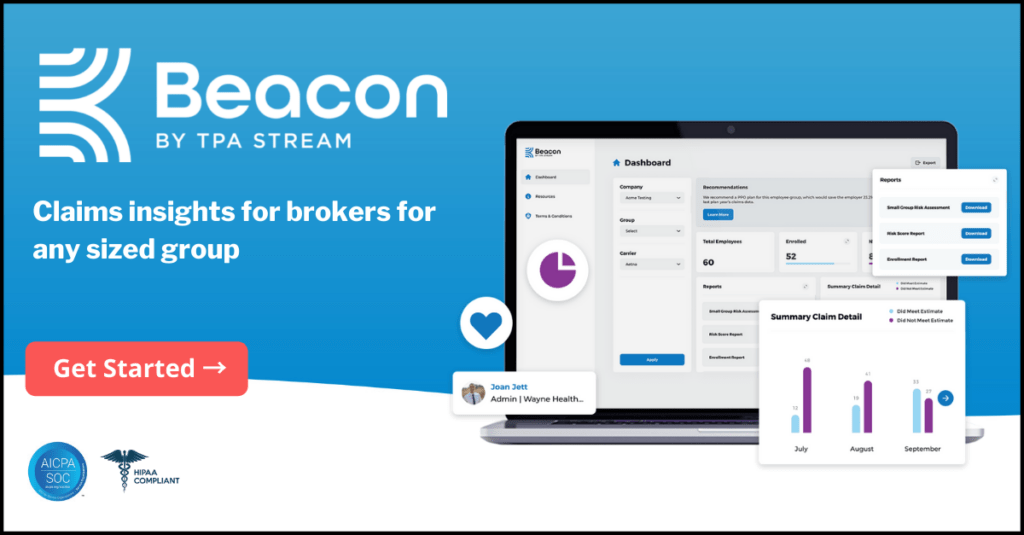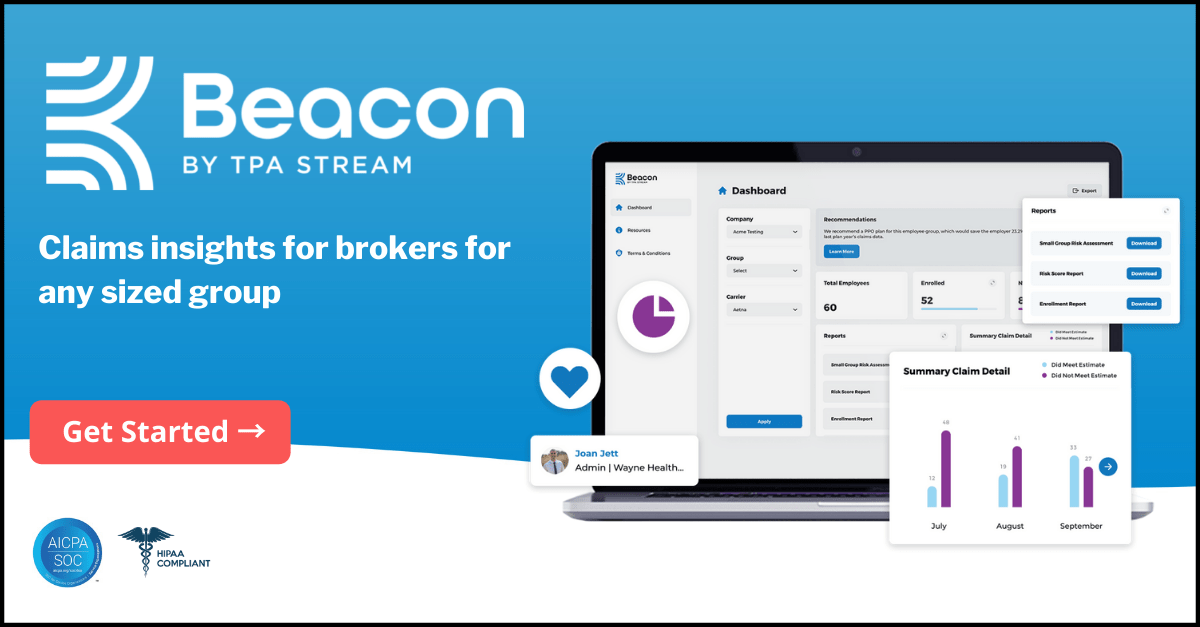 Related:
Sources: